Flexispy Phone Tracker Review: What Is Flexispy
by Sophie Green Updated on 2022-08-25 / Update for change location
With the advancement in technology, many phone tracking tools are finding their way to market. Flexispy phone tracker is one of them. Such kinds of tools can not only track your location but everything being performed on your device including chat details, call history, installation, and usage of apps.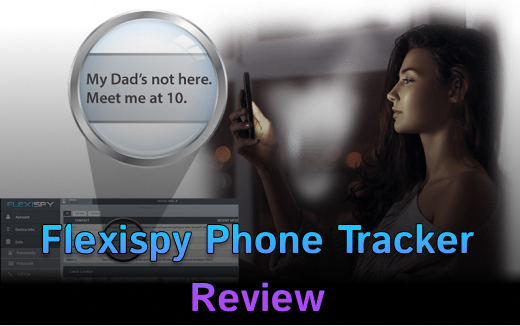 Here is a review of the flexispy phone tracker explaining everything you need to know about it.
What Is Flexispy Phone Tracker
Fexispy is a phone tracker application that can present a full picture of everything that happens on the target phone remotely without any hassle of moving. Imagine being tracked all the time for everything you do on your smartphone and that's what this app makes possible. 
You can install this app on your phone to track your loved ones, especially children to be sure about their activity and safety. Besides this app helps you to see and listen to all information coming from the phone any time anywhere.
Main Features of Flexispy Phone Tracker
That being said, it's not only for tracking location but everything a user does on their device. Here are some prominent features of flexispy which make it a cool spy app. 
1. Manage Calls
Managing calls on other devices is very easy and safe while using flexispy. This app lets you listen to and record live phone calls. Whenever the other phone gets a call, you can listen and record it in real-time for training and quality control. You can even achieve your own conversation using the manage calls feature of flexispy. 
2. Track Text Messages
This spy app is also good at tracking text messages. In case you are concerned about the safety of your child and want to keep yourself updated about the chat history, then this app lets you do it secretly. This way you can ensure your child is not indulged in any unhealthy activity and have a safe friend zone.
3. Read Messaging Apps
Flexispy has the ability to spy on over 11 popular iPhone messaging apps including Messenger, Viber, Tinder, Skype, WhatsApp, Hangouts, and many more. You can read the messaging details of these apps without letting the other person know about your spying. Apart from reading the message, you can record VIP calls made on these apps.
4. Track Location
Flexispy GPS tracking is one of the most wanted features. This feature enables you to discreetly track anyone's location at any given time. You need to install the flexispy app on the target device and it will show their GPS location on your online dashboard for convenient viewing. This way you remain undetected and track any phone secretly.
5. Control Apps and Programs
This app has the ability to control apps and programs on your target device. You can see all the installed apps, their installation date, and other details, Moreover, it shows other minor details too like launches, closure, and uninstallations of apps.
With an iPhone keylogger, you can see everything typed on your target device's keyboard. Moreover, taking pictures and videos remotely is also possible with this spy app.
How Much Does Flexispy Phone Tracker Charge
Flexispy phone tracker free is not available since it comes with a price tag. It has three packages including lite, premium, and extreme. 
If you are on a budget and need only essential basic features then the lite package will cost you $29.95 per month. 
If you need all-around monitoring activities then the premium package is best for you which comes with a price of $79 per month, $119 for three months, and $179 for one year. 
Its extreme package is suitable for most demanding detectives with a price of $119 for a month, $239 for three months, and $419 for a year.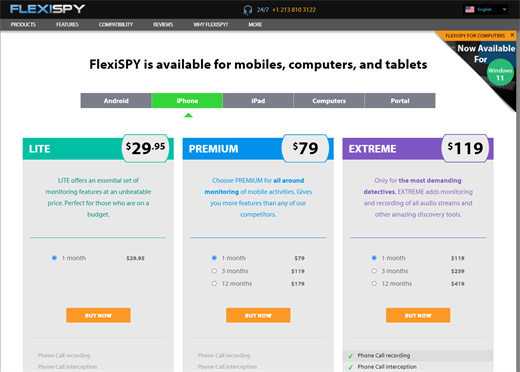 Tip: How to Prevent Flexispy iPhone Location Tracking 
Getting tracked all the time is such a headache. Isn't it? You feel no sense of privacy and everything goes like detected and tracked. This can be frustrating on days when you are looking for extreme privacy to deal with an emotional breakdown or want to enjoy your vacations while letting no one else see your location. 
Tenorshare iAnyGo location spoofer software can help you to mock your location so no one can actually guess your real location. This professional tool assists you in changing your actual location to any other place and your friends and family will see only the fake location. It does it safely so there is no chance of being detected and tracked to your actual location.
Launch Tenorshare iAnyGo on your computer and proceed with its default mode "change location."

Connect your device to the computer using USB and click the "Enter" button to get started.

Now enter any address you want to teleport in the search bar of this software and click "start to modify". Congrats! You are done here. Enjoy your new location.
Final Words
Flexispy phone tracker excellently tracks the target device in a way that you are using or seeing the device by sitting with that person. This is surely a helpful app for those parents who are concerned about the safety of their children. However, if you want to stop anyone from seeing your actual location then don't forget to try Tenorshare iAnyGo software.