[Solved]How Do I Get Rid of Someone Else's Apple ID on My iPhone?
by Jenefey Aaron Updated on 2020-09-04 / Update for Apple ID
Last week, a friend of mine borrowed my phone as he had his iPhone broken. I had two of the phones, so I lent him one to use for a couple of days. After I got my phone return, I witnessed weird login credential pop-up on my screen as I navigate between applications like iCloud, Apple store. Later I got to know, he used his Apple account to download apps and stuffs like that, and firstly I had no idea how to remove them. I was wondering how do I get rid of someone else's apple id on my iPhone? After some fair tryouts and browsing, I came to know the inclusive solutions. The same problem might occur to you if you buy a second-hand iOS device. Here we are discussing the possible solutions; read them thoroughly to find out how do I get rid of someone else's apple id on my iPhone? Keeps saying verification failed.
Way 1. How Do I Delete an Apple ID from My iPhone without a Password
A fantastic tool developed by Tenorshare called Tenorshare 4uKey is the exact thing you are looking after to remove apple id from iPhone. 4uKey is a third-party tool available on purchase manner to unlock iPhone while removing passcodes and Apple ID. 4uKey works well with iPhone, iPad, iPod Touch for removing pins of any length, Apple ID, Face ID, and other authentication features. It is a popular software used by thousands of iOS users worldwide, and it is a simple yet powerful tool. 4uKey is a perfect solution on how to delete Apple ID. For clear understanding and guide, follow the steps mentioned below thoroughly.
After proper installation opens the application, select the "Unlock Apple ID" option to solve how to delete an Apple ID and continue.

pic: unlock apple id

At present, connect your iOS device to your computer. 4uKey will automatically recognize your device. Option pop-ups in your phone saying; Trust this computer, click on "Trust," then continue.

Tip: Connecting to PC with a proper Apple cord is always beneficial to allow smooth data transmission.

pic: connect device

Now you are all set to begin the process, on the 4uKey screen click "Start." The process will run for some time, somewhat 1-2 minutes.

pic: unlock apple id
Outline: After removing the Apple ID, the system takes two scenarios to boot into mode again. The booting will depend on if "Find my Phone is on" or "Find my Phone is off."
Scenario 1: In case "Find my Phone" is off
iOS devices will typically boot up after removing the Apple ID, and it takes only a few seconds. This process is applicable for iPhone, iPad, iPod Touch.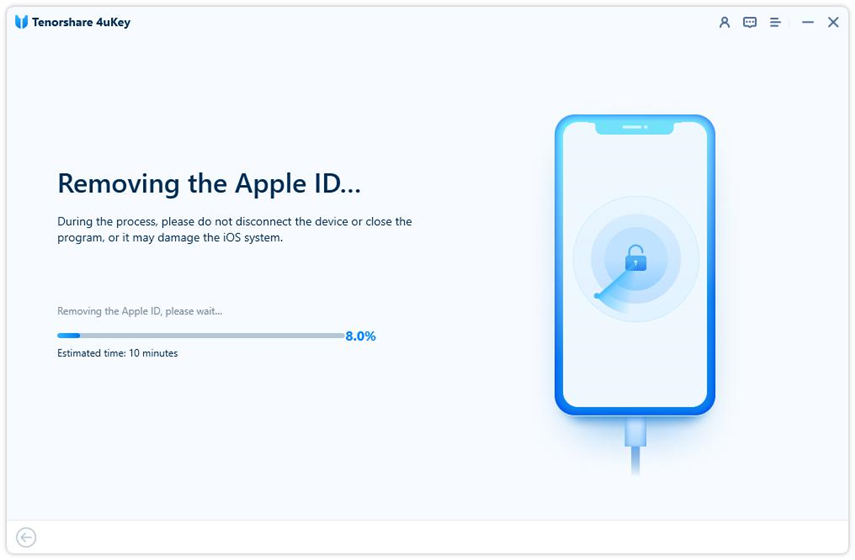 Scenario 2: In case "Find My Phone" is on
You need to reset all the settings in your iOS device if systems "Find My Phone" is turned on. Follow the on-screen steps.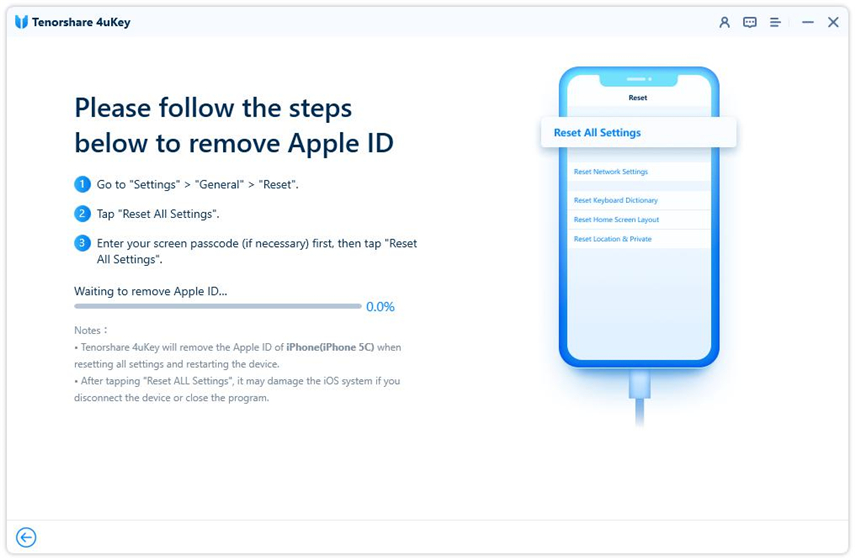 After a few seconds, Tenorshare 4uKey will remove Apple ID is successful.
Few notes to consider:
After a successful process, do not use your original Apple ID to login to the device again for security reasons.
If your device has iOS 10.2 and below, data will be lost while trying the above processes.
Unactivated iOS devices and iOS 11.4 and above devices are not eligible to bypass iCloud and Apple ID.
Way 2. How to Remove Apple ID from iPhone Settings (Need Password)
If you know the password, then it is very easy to remove. Just go to the General settings, on the top you'll see the account name and enter it. Scrow down and click "Sign Out". You'll be prompted to enter the Apple id password. After signing out, any dcuments and data stord in iCloud Drive will be removed from this iPhone.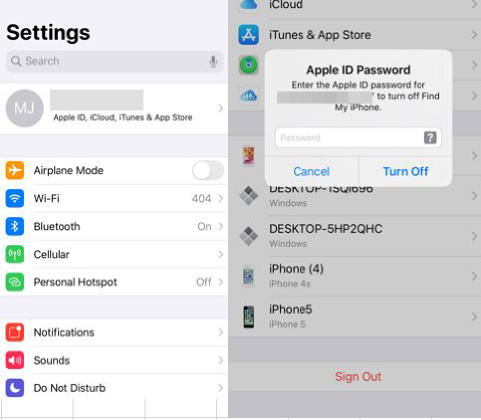 After that, the old Apple ID has been removed. You can now sign in a new one.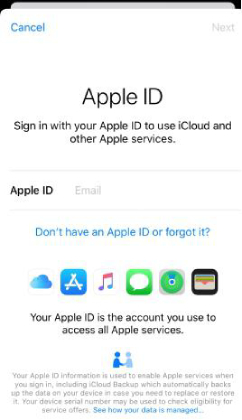 Way 3. How to Delete Apple ID from iCloud.com
iCloud, as a name suggests, is a Cloud service of Apple. It permits iOS users to share data and information remotely on the server more securely and privately. iCloud required Apple ID login to manage and maintain its capabilities and functionalities. Another way to remove Apple ID from iPhone is to delete Apple Id from iCloud. Following the steps will not feature synchronize facility to Calendar, Notes, Reminder, Safari, and other applications. Follow steps below for proper guidance:
On the browser, go to the Apple privacy website.
Log in to your Apple ID and Password to which you would like to delete.

On manage your data, search for "Delete your account" option then get started.

pic: delete your account

Select a reason you are deleting the account for then hit Continue.

Accept terms and conditions and hit continue. Choose your account to get Pincode for account deletion confirmations, then hit continue. A generated code is to be inserted in the required field. Enter the pin and click "Continue."

pic: confirmation codes

Confirm deletion while hitting "Delete Account." It generally takes seven days for termination of account after overall verification.

pic: delete your account
Summary
If you buy a second-hand phone or lend someone your iPhone, issues relating to how do I get rid of someone else's Apple ID on my iPhone? Keeps saying verification failed occurs. You can remove Apple ID from the phone quickly with few clicks. You don't need prior tech knowledge to use the Tenorshare 4uKey application. The tool is excellent for keeping all your belonging data without deleting them even after removing Apple ID. The above article depicts the best solution suitable to get rid of other's Apple ID.