Must-Read on FGL Pro for Pokemon Go
by Jenefey Aaron Updated on 2020-08-10 / Update for Android Tips
Nowadays, several Augmented Reality games are turning heads of users. Pokemon Go is such an AR game that has made quite a name among the players. The game is, of course, based on iconic Pokemon characters. The basis of the game is to catch Pokemons, but sometimes the tasks require the users to reach a location where they can't physically go.
So, location masking is popular among the Pokemon Go players. FGL Pro is one of the best and popular names around for location masking. Check out the details below.
Part 1: What is FGL Pro?
The FGL Pro is an application designed for location spoofing. This location spoofing app is mainly used by Pokemon Go players. So, you can say Pokemon Go FGL pro are closely connected.
This is a very capable app; using it, you will be able to change your device location to anywhere. The app is available for free, but there is also a paid version available. It has all the features of a powerful location application. And most importantly, this app works great with several other applications, and we already know that FGL Pro Pokemon Go is compatible.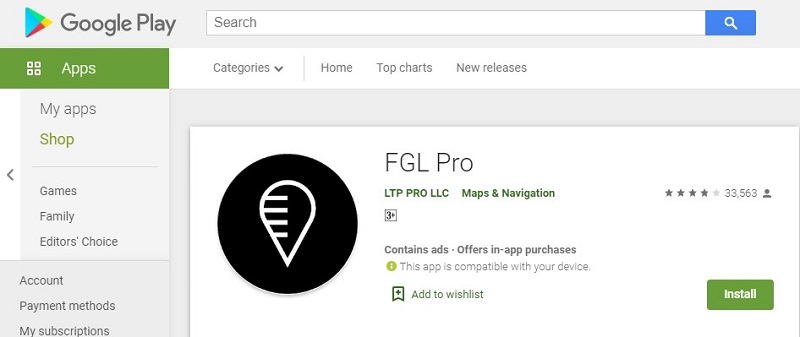 Well, you may not know; how to use FGL Pro for Pokemon Go, but for the moment, we can tell you about its features.
You will get an option to select a location anywhere in the world.
You will be able to share your fake location with your family and friends.
Location spoofing is easy for Android users.
One of its best features is to share routes with several different options like driving, speed change, walking, and many others -to help you easily hide your current location. FGL Pro is a free location spoofing app you can download from the Google Play Store on your Android phone. Else, you can FGL Pro APK Pokemon Go from the internet on your Android phone.
Part 2: Must-Read on FGL Pro for Pokemon Go
'Is free FGL pro safe?'
For the most part, users are unaware of the issues presented by FGL Pro. One of the most common issues is FGL pro keeps crashing.
While the performance of FGL pro Android 9 is quite good, the problems like FGL Pro mocking please wait, or FGL Pro error 11or FGL Pro joystick not working are ruining the experience for the users.
Overall, we can say that there are no FGL pro Pokemon Go settings issues. The app performs well within its boundaries. But there are a few drawbacks that have been pointed out by the users.
So, without further ado, let's check out the likable and dislikeable functions of this popular application.
Pros
The app is available for free.
The operation is very simple.
Compatible with a number of popular applications.
Cons
The first issues is that you have to downgrade the Google Play Services.
The free version comes with a lot of ads.
Many users have said that the app has failed to works as it was supposed to.
There is no way to remove the ads.
The installation is very long.
Part 3: Detailed Guide on How to Use FGL Pro Pokemon Go
In this part, we will be discussing the FGL pro guide.
Yes, we have learned most about the FGL Pro application, but you are yet to find out its operational procedure. So, here's how to use FGL pro Pokemon Go…
In the beginning, you need to downgrade your Google Play Services in order to mask the location without rooting the device. We recommend using the version 12.6.85 or any version older than this one.

So, download the old version.

Now, download FGL Pro from Google Play Store.

After that, you need to deactivate 'Find My Device' from the settings of your mobile. Just go to 'Device Administration' and disable it.

Now, uninstall the current version of Google Play Service from your smartphone and then install the downloaded older one.

After that, disable the Google Play Store from the Settings of your mobile and then launch FGL Pro and start masking your location.
Basically, you need to launch FGL Pro and set the location in the Pokemon Go game and tap on the 'Play' button. Hopefully, you don't have to ask; how to use FGL pro anymore.
Conclusion
Hence, FGL Pro is an excellent application, and it works really well with Pokemon Go. This is the most popular way to mask the location for most of the Pokemon Go users. For sure, FGL Pro is not the perfect app, and it has several glitches; some users have complained about FGL pro failed to detect location. But we still do say that all these issues can be overcome easily. Just stay calm and use our installation guide to install the app on your Android mobile properly.
Freely Change GPS Location without Jailbreak!
Plan a route by selecting two or multiple spots on the map
Easy to simulate GPS movement based on customized route
GPS joystick to take better control
Import GPX file to start a designed route