6 Best Android Photo Recovery for Mac
Photos are the most common data in our Android phone since we keep clicking our selfies quite often. Losing those beautifully captured moments can give a sad feeling. Therefore, Android photo recovery are created that are able to recover any kind of lost photos as well as other lost data. Since there are a number of such tools available in the market, you need to know which one is the best to use. If you are a Mac, luckily enough, here we gathered 6 best Android photo recovery for Mac, let's take a look at them one by one together.
Part1: Features the Best Android Photo Recovery Should Have
Below are some traits or features the best Android photo recovery tools should have.
The User Interface must be easy to use because most of the phone users are not techie enough to usecomplex recovery software tools.
The software should be able to recover any type of data. When it comes to photos, it should recover all regardless of the extensions.
It should also recover that App's data such as WhatsApp Messages, Contacts, etc. Since nowadays in the phone, we use a lot of Apps,and their data are important so if a data recovery tool is not able to recover their lost data that is a waste software tool then.
It must recover the data of external SD card as well; not just internal. It must recover data of both internal and external memories.
It must have compatibility with almost all versions of Android so that any Android users can use it.
It must have preview option that allows you to see the thumbnails of recoverable photos and other files before recovering them. It helps you identify the photos and other data quickly.
These are some of those important features that a data recovery tool must have. Further, in this article, we are going to recommend the best Android Data Recovery software and few other good recovery tools as well based on our test.
Part 2: Tenorshare Android Data Recovery for Mac – The Best Android Photo Recovery for Mac You Need
Tenorshare Android Data Recovery for Mac comes from the house of Tenorshare which is popular name in software industry that develops most creative software tools that help you get most out of your phone, and even for fixing problems of your phone. This can be the best Android photo recovery for Mac you can use.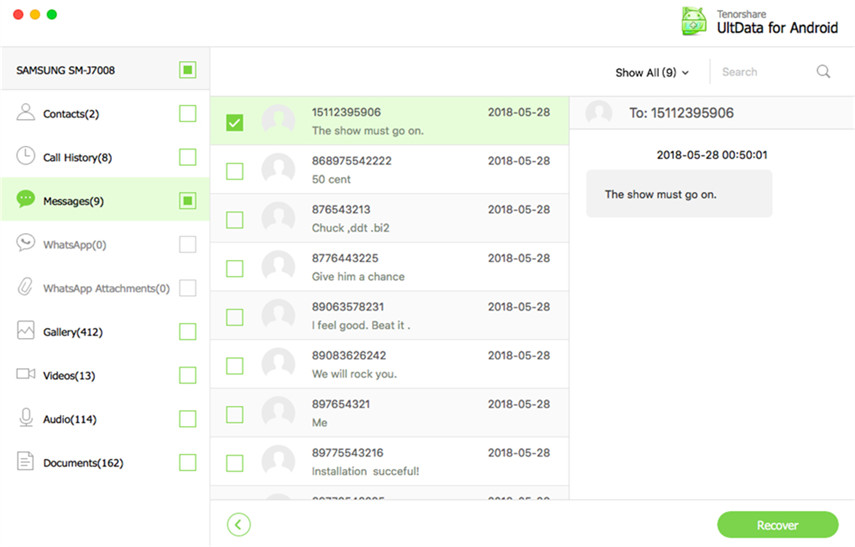 Key features of Tenorshare Android Data Recovery for Mac:
Recovers everything: No matter what, it recovers everything such as messages, contacts, WhatsApp messages, audio, photos, videos, call history, recordings, etc.
It recovers photos and data not only from Internal but external memory as well.
Free Trial: It offers free trial that allows you to use it first, and if it works fine for you, then you can invest money to buy it.
Recoverable Data Preview: After it completes the scanning to find out the files that are recoverable, it shows previews of them that help you identify the data instantly. And, then you can check mark them only those which you want to recover and recover them easily.
Best Android Support: It supports Android 1.5 to 6.0, and soon will be supporting the later versions as well.
It is very easy to use that anyone can use it without having any technical knowledge.
Supports phones from all brands, including Samsung, Huawei, HTC, sON
Pros:
Recovered files are in their original state. No quality loss or anything.
Scanning for the lost file is quite fast.
Supports all external storage devices as well.
Recover almost everything.
Cons:
No obvious cons have been found.
Part 3: 10 Other Android Photo Recovery tools for Mac Worth Trying
In addition to the powerful Tenorshare Android Data Recovery, there are some other photo recovery tool you can have try, just check them out.
1. Wondershare Dr. Fone Data Recovery tool
Dr. Fone is a popular Android data recovery tool for Mac that you can try out. Just like Tenorshare photo recovery, it is also very easy to use and you can preview files before recovering them. It works perfectly fine with almost all types of Android phones, and recovers almost everything that your phone lost.
Moreover, users reported that while scanning a micro SD card of higher storage, it takes a little more time to find the recoverable files and also, it is more expensive than its similar software. Apart from this, all is well.
2. Disk Drill 3 Android Data Recovery
Disk Drill 3 is another player in the data recovery industry. It supports Android 2.3 version and higher. It recovers all files and folders that are deleted from your phone regardless of the reason of the data loss. Their basic plan is free but for more advanced features, you need to upgrade to the higher plans. It recovers data from both internal and external memories.
3. Aiseesoft Android Data Recovery
Aiseesoft Android Data Recovery is an awesome Android data recovery software program which you can use if you lost your important files, folders or WhatsApp messages, or say anything. It recovers all of them. No matter what caused the data loss whether virus attack, or system crash or anything, this software will help you recover the data at minimum effort. It recovers data of Internal, external memories and SIM card as well.
4. Jihosoft Android Data Recovery Tool
Jihosoft Android Data Recovery is another great data recovery tool which not only recovers the photos but all types of data that are lost from your Phone's internal memory or SD card. You can also recover, audios, videos, WhatsApp messages, Viber's data, SMS, contacts, etc. using Jihosoft Recovery tool. Just three steps needed to carry out to recover the data from an Android device. Install the software on your Mac, connect the phone to Mac, scan the deleted files, and then recover by a single click.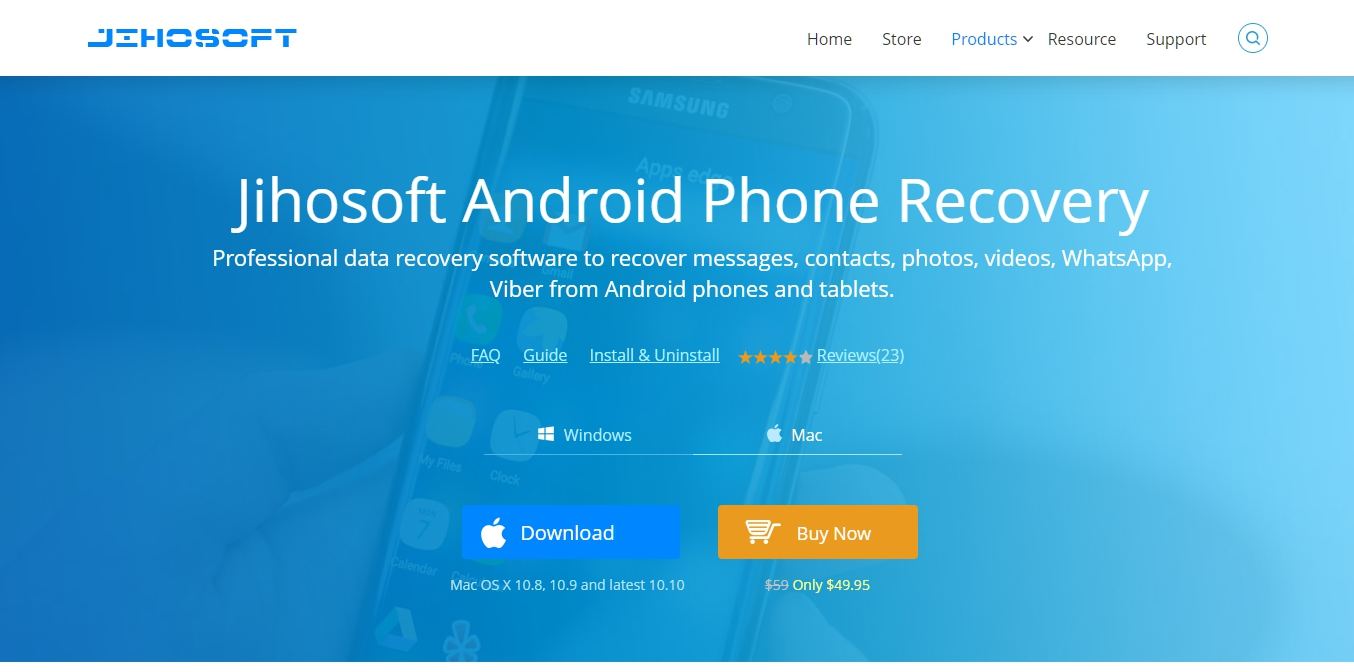 5. FonePaw Android Data Recovery Tool
FonePaw Android Data Recovery is another good Android data recovery tool that assists you to recover the lost file from your Android phone. It recovers everything from text content to media files to documents. It works with all the modern generation Android phones and tablets.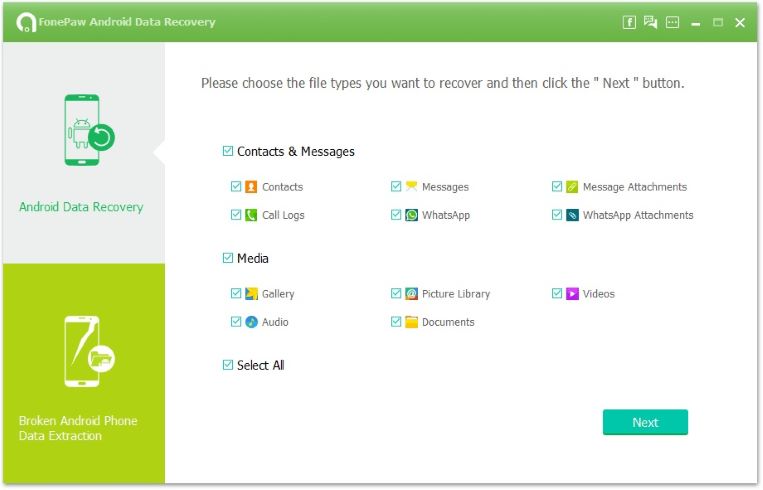 Conclusion
Photos and other data on our phone may be important and you cannot afford losing them. Therefore, stay ready for such situation. For this, have Android data recovery software on your Mac so that when any data of your phone is lost, you can recover that ultimately.
In this article, apart from Tenorshare data recovery, we have listed 5 more such tools that are the best to do Android photo recovery for Mac. So total, you have a list of 6 best Android data recovery tools that you can choose from.