Phablet, thanks to its extending size of screen, becomes an ideal device for both entertainment and work. Nowadays, three mighty competitors - Apple iPhone 6 Plus, Samsung Galaxy Note 4 and Google Nexus 6 - earn popularity of most users in the world.
Now let's see the specifications of these Big Three: iPhone 6 Plus vs. Samsung Note 4 vs. Nexus 6, and which one deserves your best buy.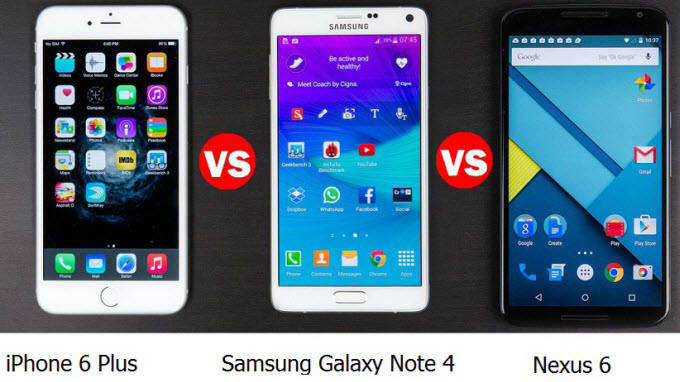 Screen
The most obvious difference that we can notice is the size of screen. Google Nexus 6 is 6.0 inches, followed by Galaxy Note 4 (5.7 inches) and then iPhone 6 Plus (5.5 inches).
Samsung Galaxy Note 4 and Nexus 6 are equipped with AMOLED screens with 1440x2560 pixels resolution, while iPhone 6 Plus has IPS LCD screen with 1080x1920 pixels.
Winner: Google Nexus 6
Processor
iPhone 6 is equipped with 1400 MHz dual-core processor, Nexus 6 2700 MHz quad core and Galaxy Note 4 1900 MHz 8-core processor. Apple's A8 chips require less power while Qualcomm's chips ensure you of the fastest speed of processing.
Winner: equivalent
Operating System
The most important aspect that affects which phablet to choose is the operating system. iPhone 6 Plus is iOS 8.x, while Galaxy Note 4 features Android 5.0/4.4.4 and Nexus 6 Android 5.0 Lollipop.
What you should consider is their respective crash rate. Android 5.0's 2% crash rate is superior to Apple's iOS 8 2.2% crash rate. Compared with the previous version, Android Lollipop also improves a lot (iOS 7 having 1.9% crash rate, Android KitKat 2.6% crash rate).
Winner: Nexus 6
Memory
iPhone 6 Plus has 1GB of RAM and an internal, non-expandable memory of 16GB, 64GB and 128GB. Nexus 6 has a 3GB of RAM and an internal, non-expandable memory of 32GB and 64GB. The Galaxy Note 4 has 3GB of RAM and memory of 16GB and 64GB, expandable up to 128GB.
Winner: Samsung Galaxy Note 4
Battery Life
The capacity of iPhone 6 Plus, Samsung Note 4 and Nexus 6 is 2915mAh, 3220mAh and 3220mAh. The 3G talk time is 24 hours (Nexus 6 and iPhone 6 Plus) and 20 hours (the Note 4).
Winner: Nexus 6
These are a part of specifications of iPhone 6 Plus, Samsung Galaxy Note 4 and Nexus 6, also the most important factors. But I'm here just give you a reference. The final decision to choose which should made by yourself.
Free Download
For Win 10/8.1/8/7/XP
Secure Download
Free Download
For macOS 10.13 and below
Secure Download
Related Articles
comments powered by